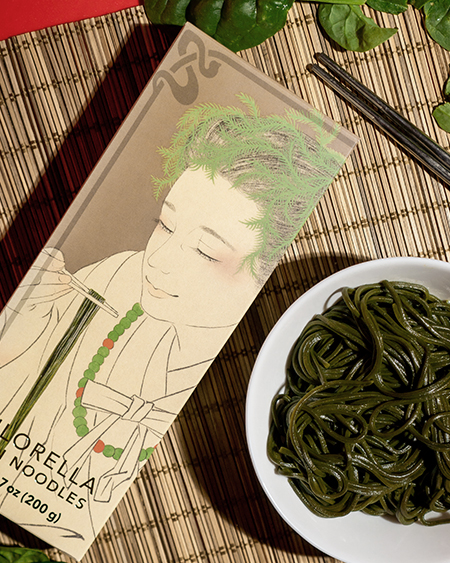 We are excited to celebrate our 40th anniversary and to release the Japanese History Collection of Chlorella Udon Noodles! Our premier Chlorella Udon Noodles are created in collaboration with the renowned noodle company, Ishimaru Seimen, to bring you traditional food with the wellness of Sun Chlorella.
Chlorella Udon Noodles are the perfect base for a nutritious meal. Beautiful custom packaging showcases trademarked designs representing six periods of Japanese History.
WHAT DOES IT TASTE LIKE?
Chlorella gives the noodles a mild umami flavor similar to "dashi," a common savory soup base essential to Japanese cuisine. Sealed to perfection for fresh flavor. These versatile noodles work well with your favorite hot or cold pasta recipes! Click here for delicious recipe ideas.
WHAT IS CHLORELLA?
Chlorella is a single-cell, freshwater green algae containing a full spectrum of nutrients. It contains one of the highest chlorophyll concentrations of any plant on Earth. Our signature premium product, Sun Chlorella, has the highest quality chlorella on the market!

BENEFITS
These noodles go beyond satisfying your hunger! You get vitamins like B12 and folate; minerals like magnesium; antioxidants like lutein, beta-carotene, and chlorophyll; omega-3 and omega-6 fatty acids; and all nine essential amino acids. Finally, these distinctive green noodles revitalize your body at the cellular level thanks to the unique Chlorella Growth Factor (CGF). CGF is a complex rich in nucleic acids, critical for cellular growth, renewal, and repair. It contains the nourishing benefits of a green superfood, chlorella (2g per serving, equivalent to ten 200mg Sun Chlorella tablets)!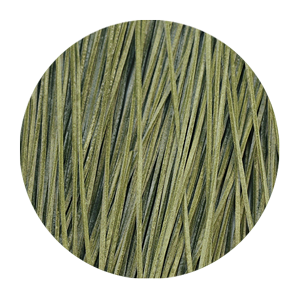 Plant-based
Essential vitamins (B12 & Folate)
Minerals (Zinc & Magnesium)
Chlorophyll & Lutein
Essential Amino Acids
Chlorella Growth Factor
Omege-3 & Omega-6

Click here for more information about the Japanese History Collection.